Important Updates
OFFICE SCHEDULE:  The office will be closed Tuesday, July 4, in observance of Independence Day.
UPCOMING COURSES & EVENTS:
If you are in recovery from addiction or contemplating recovery, you are welcome to join us for Peer Recovery Meetings at Mendonoma Health Alliance.  Meetings are held every week at Mendonoma Health's conference room located at 39251 S HWY 1 in Gualala.
Every Wednesday we hold a one-hour check-in meeting that will help build a community of support for participants. Fridays will do the same and will incorporate a skill-building activity.
Contact Jake at (707) 412-3176 x108 for more details.
Wednesdays:   3:00PM – 4:00PM

Fridays:  3:30PM – 5:00PM
To find out more information about this course or to reserve a space in an upcoming class, please use the links below.
A MATTER OF BALANCE COURSE
To learn more about this course or to pre-register for an upcoming class, use the links below.
COVID-19 Updates:  As of May 10, 2023, masks will be optional when visiting our office. Clients have the right to request that the staff member helping them wears a mask if it makes them more comfortable. If you are experiencing any COVID-like symptoms (fever, cough, shortness of breath, etc.) please remain home and request to reschedule appointments. If you have symptoms and would like access to free drive-up COVID screenings or take-home tests, please call our office in advance to set up an appointment.
OFFICE HEALTH SCREENING SCHEDULE: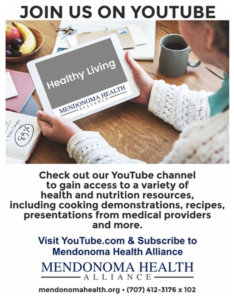 This website and Mendonoma Health Alliance's programs are supported by the Health Resources and Services Administration (HRSA) of the U.S. Department of Health and Human Services (HHS) as part of a financial assistance award through the Rural Health Network Development Program totaling $898,645 and through the Rural Communities Opioid Response Program totaling $1 million, over a 3-year period, with  80% funded by HRSA/HHS and 20% percentage funded by non-government source(s), such as the Arlene & Michael Rosen Foundation, Santa Rosa Memorial Hospital, the Community Foundation of Mendocino County and tax-deductible contributions from community members. The contents are those of the author(s) and do not necessarily represent the official views of, nor an endorsement by, HRSA/HHS or the U.S. Government.