Important Updates
FOCUS GROUPS:  Get $75 when you participate in a Focus Group.
GRUPO DE DISCUSIÓN:  Gane 75 dólares por participar en un grupo de discusión.
2022 Community Health Needs Assessment: 
Your Voice Matters!  Your input and perspective are vital to understanding the most urgent needs in our community. This anonymous survey will take 10-15 minutes to complete.
2022 Evaluación de las necesidades de salud de la comunidad:
¡Su voz es importante!  Su opinión y perspectiva son vitales para entender las necesidades más urgentes de nuestra comunidad. Puede completar esta encuesta anónima en 10 a 15 minutos.
UPCOMING COURSES:
Matter of Balance Volunteer Coach Training:  June 29 – June 30
A Matter of Balance Class:  July 12 – August 30
HOLIDAY SCHEDULE:  Our office will be closed Monday, July 4, 2022.
COVID-19 UPDATE:  Mendonoma Health Alliance is now conducting home visits, office visits and accepting drop-ins. Masks are required when receiving any in-person services, including those provided in our office or at your home. Temperature screenings are required before services are rendered. If you are experiencing any COVID-like symptoms (fever, cough, shortness of breath, etc.) please do not come to Mendonoma Health's office until your symptoms have cleared.  Please note that drop-ins may be required to schedule an appointment for a later time to receive services. Thank you for understanding. We look forward to serving you.
NEW SCREENING:   Mendonoma Health Alliance has free rapid COVID antigen testing Monday-Friday in our office. Call in advance to set up an appointment. Testing takes about 20 minutes. (707) 412-3176 x 102. For Spanish, (707) 412-3176 x 106.  We also have some mobile testing coming up.  Stay tuned!
OFFICE HEALTH SCREENING SCHEDULE: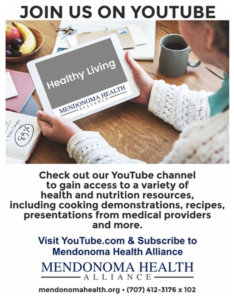 This website and Mendonoma Health Alliance's programs are supported by the Health Resources and Services Administration (HRSA) of the U.S. Department of Health and Human Services (HHS) as part of a financial assistance award through the Rural Health Network Development Program totaling $898,645 and through the Rural Communities Opioid Response Program totaling $1 million, over a 3-year period, with  80% funded by HRSA/HHS and 20% percentage funded by non-government source(s), such as the Arlene & Michael Rosen Foundation, Santa Rosa Memorial Hospital, the Community Foundation of Mendocino County and tax-deductible contributions from community members. The contents are those of the author(s) and do not necessarily represent the official views of, nor an endorsement by, HRSA/HHS or the U.S. Government.